CON KARANICOLOS
MANAGING DIRECTOR/TRADE MANAGER
For over 35 years Con has built solid relationships underpinning and delivering outcomes for all parties.Louis Melbourne recognised as Wholesaler of the Year multiple times by industry peers and numerous awards won by Louis Melbourne's staff is a testament of Con's dedication to an environment where all parties; employees, growers, buyers and service providers, can meet their own personal and business goals.
CHRIS MERTIKAS
DIRECTOR/TRADE MANAGER
"If you don't understand people, you don't understand business." This mantra for building mutually beneficial relationships has served Chris well for over 35 years.  He is bonded to the relationship between grower and retailer and through trust and knowledge succeeds in maximising value and returns for all parties. His personal brand was recognised by his peers when awarded Personality of the Year 2016.
From the cool climates of central Victoria the Mertikas family have been growing apples for two generations. Chris and the Mertikas family to this day supply apples under the exclusive brand of Stone View. Partnered with Con Karanicolos, Chris is an expert in the Market supply chain with extensive produce and industry knowledge holding Chris highly regarded by all.
Glenn works closely with the Board of Directors to ensure Louis Melbourne's long term strategic plan is achieved. As a qualified accountant, Glenn understands the value in creating a strong financial position but appreciates the foundation of any great business is great people. He believes team members need to feel they are a part of something; not just a part in something.
Whilst delivering on company goals is important, Glenn's greatest achievement is seeing the personal growth in team members and he recognises that the responsibility of leadership is to create an environment in which they can thrive.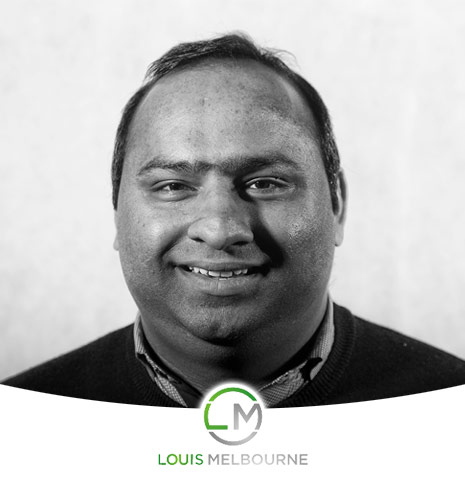 UMAR FAROOQ
OPERATIONS MANAGER
Umar holds a Bachelor of Business Degree from Victoria University. With ten years of managing Operations at Louis Melbourne, his results are a competent and accomplished warehouse and trading floor.In addition to meeting strict Quality Control and OH&S requirements Umar concentrates on asset and facility maintenance, while ensuring staff flourish in a workplace that supports health and wellbeing.This is reflected in a positive experience for suppliers, growers and customers.
JOHN LIANAS
TRADE MANAGER
John is proud to be with Louis Melbourne for over twenty years.  He began as a teenager picking orders and progressed to Warehouse Manager and he is now a cornerstone of the Sales team.  As Trade Manager, nothing is more important to John than the long term relationship with growers and maintaining a supply of produce to the Market.
By intimately working with the Sales team, John's consistent supply of produce ensures Louis Melbourne's customers have the variety, quality and quantity of produce they have come to know.
An IT Professional of twenty years, James has accumulated a wealth of experience and business acumen. Currently, he is transforming Louis Melbourne into a leading technology produce wholesaler while driving innovation across the business from the Management Team. Drawing on his Managed and Professional Services experience, James brings to Louis Melbourne, the focus and tools to drive internal efficiencies and change, while completely servicing the business, suppliers, growers and customers.
Jason has been with Louis Melbourne for five years and has become a valued addition to the sales team. A second-generation wholesaler and previously a produce buyer for the largest independent supply company, Jason focuses the skills he has acquired to efficiently and effectively deal with all customer and supplier needs as they arise. His skills and his commitment to the industry was recognised in 2016 when Jason won the "Young Marketeer of the Year" award as voted by the Melbourne Market community.